Sprint utilizing consumers to build and expand their network with small cell technologies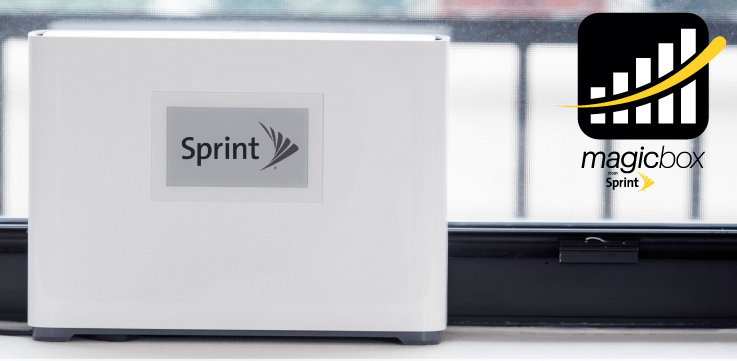 During a May press conference, Sprint announced its recent product release – The Magic Box. The Magic Box is poised to expand Sprint's network by using an asset they already have… their customers. The Magic Box is a device the size of a shoe box that will increase the speed of wireless data connectivity for customers in their homes and businesses. It will be able to increase upload and download speeds by 200% within areas of 30,000 square feet. Essentially the Magic Box acts like a mini cell tower providing a better network connection to customers whom experience lack luster performance.
Sprint is giving the Magic Box away for free to qualified customers and is estimating to deliver millions of units over the next few years. A qualified customer is one who lives in a weak network location and is currently experiencing problems with speed. To apply for a Magic Box, a Sprint customer may fill out a pre-order form online.
Other carriers have similar devices but they require a broadband connection or they only amplify signals from a nearby macrocell (ex – cell tower). Sprint's Magic Box is different. The self-configuring LTE small cell has a dedicated wireless channel to the nearest Sprint cell site, reducing interference while improving coverage and data performance.
The Magic Box allows Sprint to expand network coverage at a relatively cost effective manner, without having to build out network backhaul or sign up long term leases. In addition, there will be little upfront costs because the small cell box is effectively plug and play for Sprint customers. However, wireless analysts have their doubts on this strategy. Sprint is releasing a degree of control by relying on customers to improve its network performance which could be risky. Only time will tell if this proves to be a successful build out strategy for Sprint.
Learn more about the Magic Box from Sprint's recent press release here.
Sources
Call a wireless lease expert today to find out how you can stay ahead of the potential Sprint, T-Mobile merger and make the most profitable decisions with your cell site assets.
About TowerPoint Capital:

TowerPoint Capital is a leading institutional investor in and manager of wireless real estate across the United States. Since 2007, we have created long-term value for our landlord and corporate partners by emphasizing the company's core values — Knowledge, Professionalism, Integrity, Partnership. TowerPoint's leadership team possesses fifty years of combined experience, having invested in (or financed) over $1 billion in telecommunications infrastructure and real estate-related assets. TowerPoint is headquartered in Atlanta, GA with satellite offices around the US.