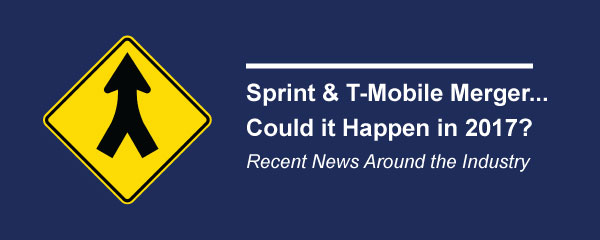 It's a story all of us have heard before… The stars could be aligning for Sprint and T-Mobile to merge this year. According to a Bloomberg Report, Sprint and its majority owner, SoftBank, met with T-Mobile to begin early discussions regarding a potential merger between the #4 and #3 wireless carriers, respectively.
Speculation of a potential merger has escalated in the past weeks due to the lift of a U.S. Federal Communications Commission anti-collusion rule that bars wireless carriers from speaking to one another during an auction. The recent FCC spectrum auction finally concluded in March of this year and the anti-collusion rule was subsequently lifted in April. Back in February, Reuters reported SoftBank's eagerness to strike up a deal with Deutsche Telekom, owner of T-Mobile, once the auction concluded. Now that it is over, there is a possibility that those early reports could be coming to fruition.
Recently, both parent companies, SoftBank and Deutsche Telekom, publicly announced their company's interest in merging with another company, but left out specifics. In an earnings report on May 11, President of Deutsche Telekom, Tim Hoettges, told reporters, "It is not only permitted and possible, but now very likely that discussions will get under way concerning various potential strategic combinations of businesses in our industry. That includes our company, T-Mobile US." SoftBank CEO, Masayoshi Son, during a press conference on May 10, said, "Our top choice remains T-Mobile. We will be open and sincere as we aim to launch negotiations."
1. Merger friendly administration
The last time Sprint attempted a merger with T-Mobile was in 2014 under a Democratic-led administration where the attempt was quickly squashed due to possible monopoly concerns within the wireless industry. Now in 2017, a Republican administration is generally friendlier towards mergers and acquisitions, taking a more laissez faire approach. Therefore, many analysts believe the newly formed Republican administration is more likely to approve a merger between Sprint and T-Mobile, despite a merger reducing the number of wireless carriers from 4 to 3.
2. T-Mobile is stronger while Sprint is weaker
In the past merger attempts, it was Sprint attempting to buy T-Mobile. However since the last merger attempt in 2014, T-Mobile has become a formidable force within the wireless industry while Sprint has gotten weaker. As a result if a deal is to happen in 2017, Sprint is willing to secede control of the newly formed company to T-Mobile.
3. Synergy and Economies of Scale
The synergy that could result from the merger (infrastructure, spectrum, technologies, etc.) will help the newly formed company be a strong opponent to the carrier heavyweights of the industry (AT&T and Verizon).
How could a Sprint, T-Mobile merger affect wireless lease owners?
Historically, when a merger or acquisition occurs within the wireless industry, substantial site decommissioning (sites taken down) tends to follow. Read this post to see a historical break down of mergers and site decommissioning over the past decades. Due to synergy and economies of scale, the newly merged company might have to decommission sites if T-Mobile and Sprint are either on the same site/tower or even in a near-by location. Unfortunately for wireless lease landowners, this could potentially put your rental income at risk if a merger is announced. If you are a site owner with Sprint or T-Mobile as your tenant, it is imperative to be aware of the current industry news today and understand what your options are if a merger is announced. Take control of your rental income and discover your options as a site owner today!
News & Articles Around the Industry Regarding Rumored Sprint T-Mobile Merger
Call a wireless lease expert today to find out how you can stay ahead of the potential Sprint, T-Mobile merger and make the most profitable decisions with your cell site assets.
About TowerPoint Capital:

TowerPoint Capital is a leading institutional investor in and manager of wireless real estate across the United States. Since 2007, we have created long-term value for our landlord and corporate partners by emphasizing the company's core values — Knowledge, Professionalism, Integrity, Partnership. TowerPoint's leadership team possesses fifty years of combined experience, having invested in (or financed) over $1 billion in telecommunications infrastructure and real estate-related assets. TowerPoint is headquartered in Atlanta, GA with satellite offices around the US.